Jurassic World: Dominion Dominates Fandom Wikis - The Loop
Play Sound
Movie (2016)
Russian title: Экипаж
English title: Flight Crew
Starring:
Danila Kozlovsky (Alexey Gushchin)
Vladimir Mashkov (Leonid Zinchenko)
Agnė Grudytė (Alexandra Kuzmina)
A 2016 remake of 1980 Soviet classic. A young pilot, who is fired from military for his not-always-welcomed honesty and morality, is accepted as a trainee into a commerical airline.
The main aircraft featured in the film is Tu-204SM registered RA-54151 (serial 64151), painted in the colors of a fictitious airline Pegas Avia (the actual plane is owned by Tupolev company). A CGI model was used in some scenes.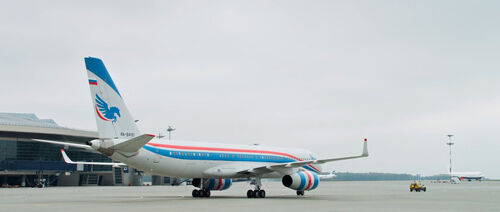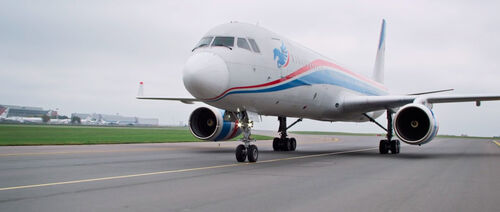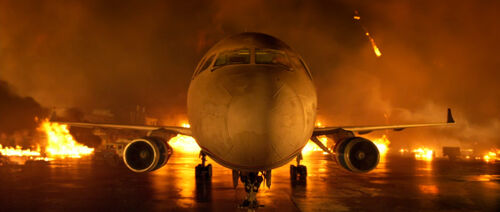 Also appears in numerous CGI scenes.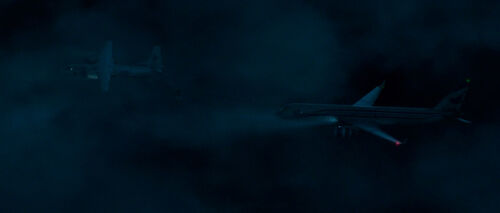 A stand model of Tu-204.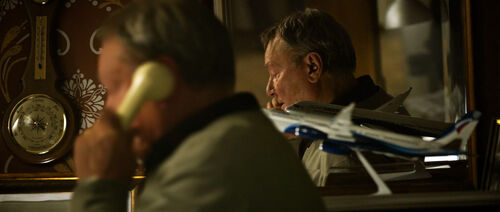 Another one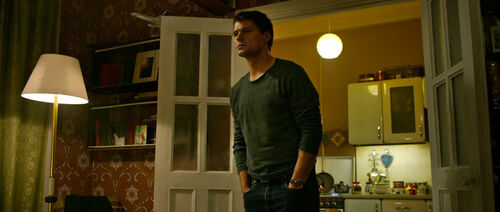 A Tu-154M reg. RA-85796 (serial 94A980) is burning in a fictional Kanwoo airport. The plane, which was destroyed in the filming process, was previously owned by Kosmos Airlines, hence the name of a fictional air carrier Osmo made up by removing the first and the last letters in the word "Kosmos" of original livery. The filming of the Kanwoo disaster scene took place in Zhukovsky airport.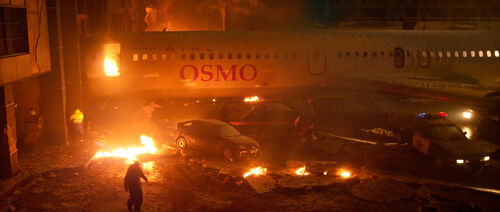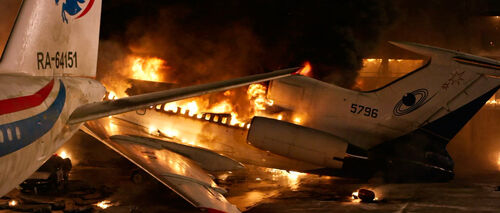 An unidentified Tu-154 of SLO Rossiya briefly appears in the lower left corner of turmoil escape scene.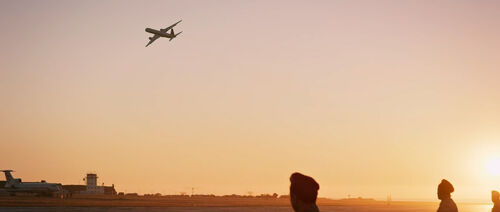 Tu-134A-3 of fictional airline LodAir and fake registration JI-78040 seen behind. The actual aircraft used was RA-65606 (factory number 46300) owned by Tupolev company. A bunch of aircraft tails is seen on the background, among them a tail of Tu-144 CCCP-77115, stored in Zhukovsky.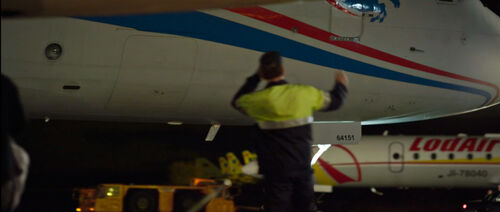 One of the scenes briefly features Tu-104B installed as a monument near Vnukovo airport. This plane with a serial number 021905 displays tail number СССР-Л5412, although its actual registration was СССР-42507.
An-12 RA-11529 (factory number 6344109) is seen behind Tu-16.
Same An-12 rendered in a CGI scene.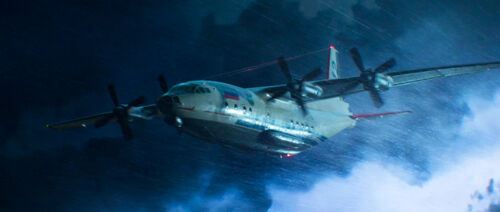 An-12BK in colors of fictional airline YouAir and fake registration KY-201409. Actual aircraft was RA-13331 with factory number 6344510, it was used as a flying lab for testing anti-icing systems. This An-12 was also burned during filming. The plane on the right is a metal mock-up constructed for the movie (see Discussion tab for more information).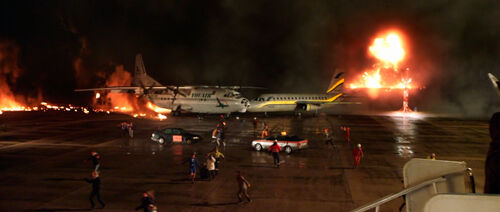 Antonov An-26 of a fictional airline SoAir with fake registration SO-086420. The actual plane used for filming was RA-29113 (factory number 1301), stored in Zhukovsky since 1994.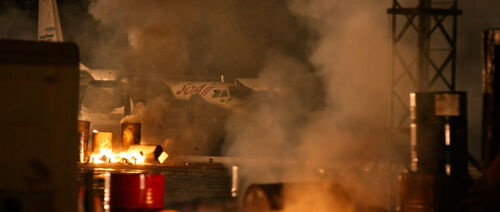 In a CGI scene.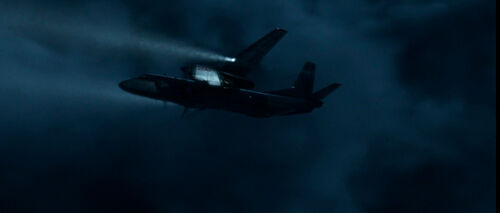 A military training version of MiG-25. This is one of the planes that were used during Buran program.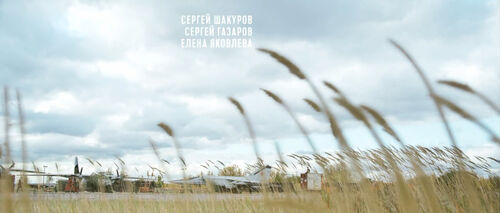 Boeing 737-700 registered VQ-BLS (s/n 30277) of Yakutia Airlines in the opening credits.
Boeing 737-800 VQ-BUL (s/n 41707) near Vnukovo terminal. The scene was digitally altered to "paint" this UTair aircraft (which has mostly white livery with grey lower part of fuselage) into Pegas Avia colors. This also presents a break in continuity, as Tu-204SM appears in all other sequences of this scene.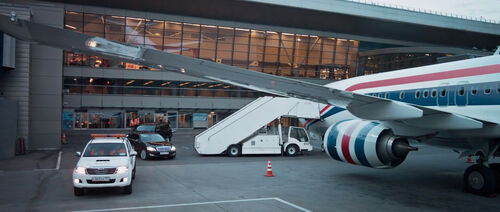 UTair's Boeing 737-800 VQ-BQS (serial 36387). UTair and Aeroflot are the only real-world airlines that had their "logo shots" in "Ekipazh 2".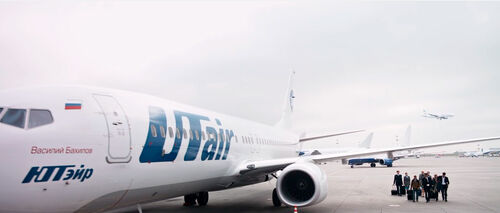 Another Utair Boeing 737 appears on the advertising poster on the wall.
Unknown (most likely also UTair's) Boeing 737 taxiing.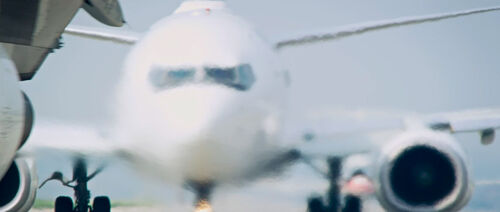 Grudytė's character inside the cockpit of Boeing 737.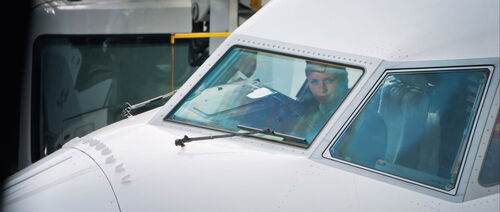 Two 737s of Transaero and UTair parked near Vnukovo terminal. The hue of Transaero's fin colors was changed to make them look green and yellow instead of recognizable red and blue.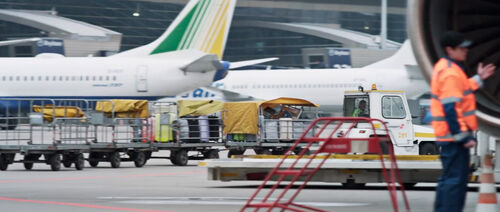 Two 737-500 of Nordavia in Sheremetyevo.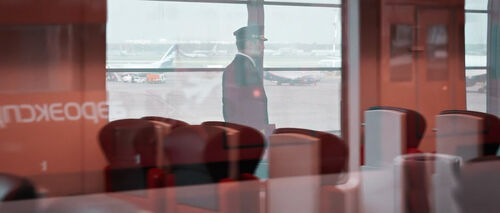 Many Utair's 737s outside.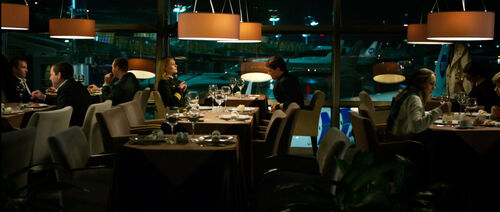 Boeing 737-700 reg. EI-RUM (serial 34321) of Transaero, manufactured in 2005. A Tu-154, other 737s and some other aircraft also seen on the background.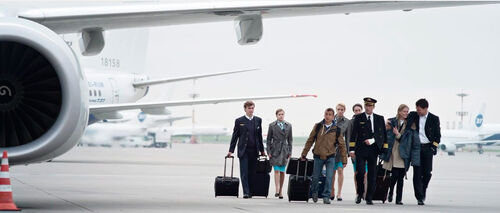 Transaero's Boeing 747-400 in the lower part of the screenshot. All markings of Transaero were digitally removed everywhere throughout the film, most likely due to them not buying an advertising contract. The airline was still in existence during filming, but was already defunct when the movie was released.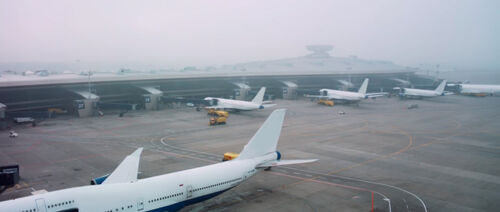 An inflated model of Boeing 747 in Transaero colors hangs under the ceiling.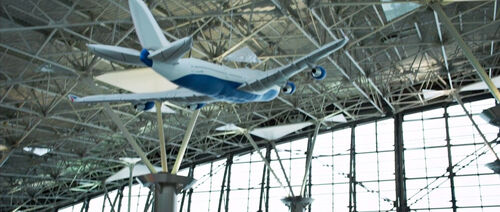 Boeing 757-200 (registered VQ-BCF, serial 27974) of Yakutia Airlines.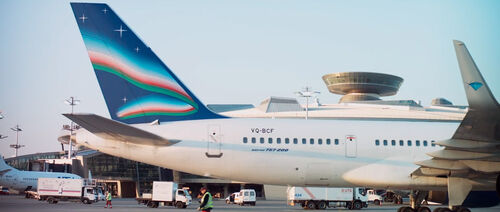 Unknown airline.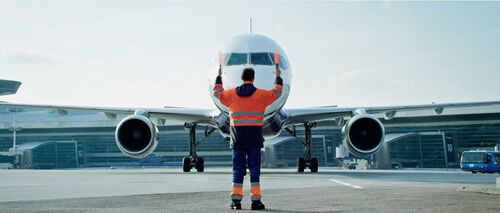 Boeing 777-200 EI-UNX (s/n 30213) in Vnukovo. The scene was digitally altered to remove Transaero markings.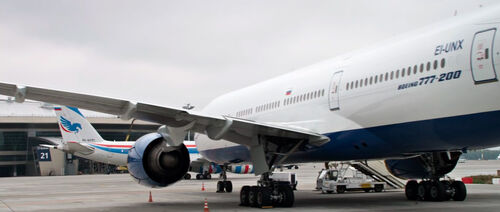 A Boeing 777-300 of Aeroflot, seen from Aeroexpress station in Moscow-Sheremetyevo International Airport (SVO/UUEE).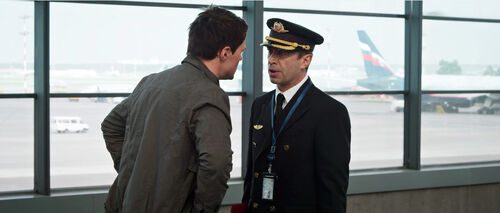 The aircraft in the "near miss" CGI scene is an Airbus A320, although it is incorrectly called "Turkish Boeing" in the movie.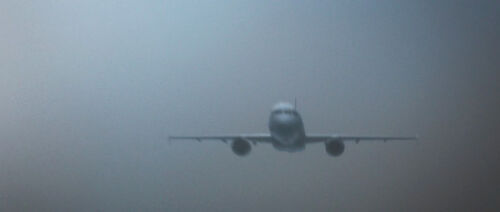 A320 of fictitious airline "Air Fair".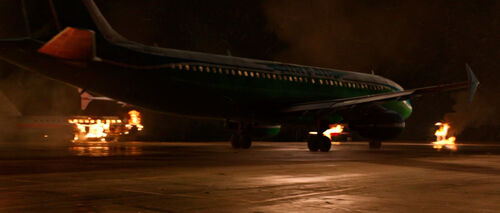 A stand model of A320 in the right section of the screen.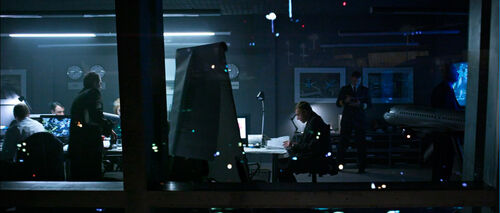 A330 taking off.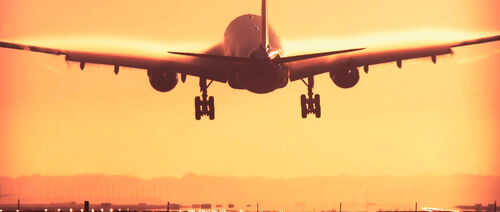 A330-300 of Aeroflot seen from Aeroexpress terminal in Moscow-Sheremetyevo International Airport (SVO/UUEE). Some other aircraft are seen in the rear of this scene, including a taxiing A320, Boeing 737 and Boeing 747.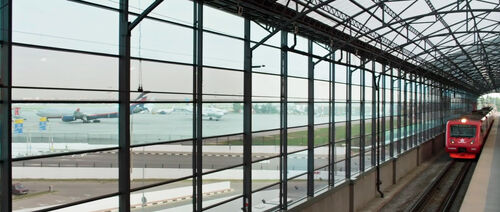 Mi-8 flying over crash-landed Tu-204SM.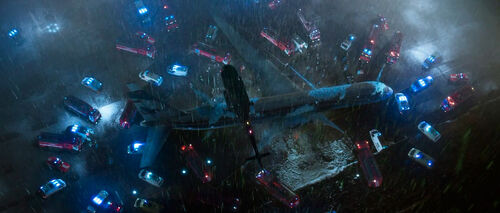 One the top photo, two scale models can be seen : first one of Il-18, and second one of Il-62. Read the discussion tab about this photo.
The bottom photo shows a Sukhoi Superjet 100-95 on the background.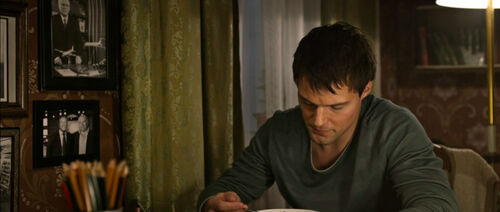 Seen on the photo.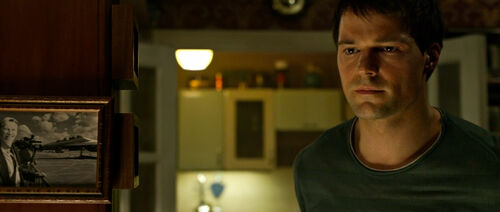 Various Memory
[
]
Many various planes on the photographs, as well as one stand model. Read the discussion tab for more complete data.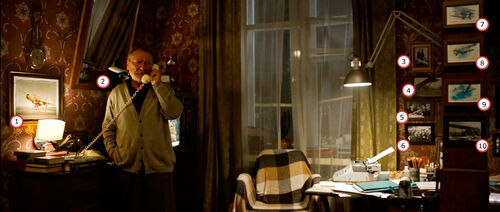 1 = Su-17M3K serial 81;
2 = Tupolev Tu-204 or 214 model;
3 = Oleg Konstantinovich Antonov behind an Antonov An-22 model;
4 = ?
5 = Sergey Ilyushin and his staff with an Ilyushin Il-62 model;
6 = ?
7 = Zhukovsky KOMTA;
8 = Antonov An-2;
9 = Yakovlev Yak-40;
10 = ?
A stand model inside Vnukovo terminal. Most likely Airbus A300 or A330.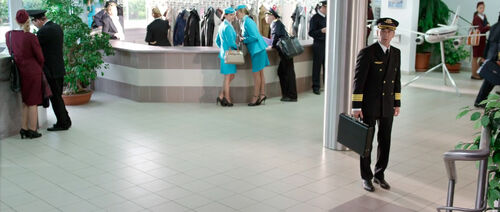 An airplane takes off in Vnukovo, is too far to reliably identify. The livery looks like that of Air Berlin (which had flights to VKO), but it could be digitally altered.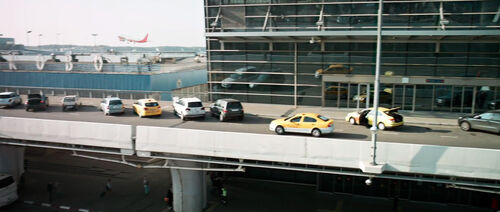 Various
[
]
An aerial shot of Vnukovo shows lots of various aircraft from different airlines.

Back To:

See also
[
]