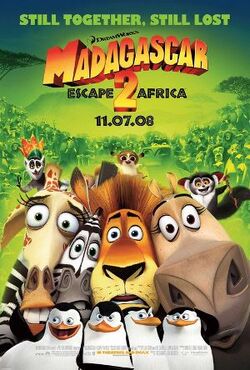 Movie (2008)
Starring:
Ben Stiller (Alex the Lion)
Chris Rock (Marty the Zebra)
David Schwimmer (Melman the Giraffe)
Jada Pinkett Smith (Gloria the Hippopotamus)

The animals try to fly back On a plane that was sling shotted from a baobob tree the plane was fixed with nature plants vines baobob wood etc and then it runs out of fuel and crashes into the wild African savanna in an attempt to get to New York City, where Alex is reunited with his parents in Africa.
Note: This is an animated work. The aircraft shown in it are therefore not actual aircraft. However, where a reasonable depiction of an actual aircraft has been created, it has been identified as best as possible.
This aircraft is technically fictional as it has the nose of an [L-10 Electra] and the fuselage + general size of an L-14 Super Electra (number of windows for reference) - It's safe to assume it's technically a private one off commissioned L-10 modified to be larger in size given the wealthy looking skeletons aboard, however the overall apparearance best matches an L-18.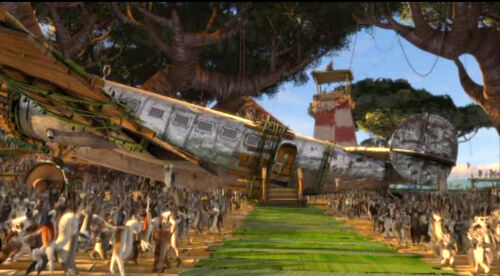 this is a cry for help why am i identifying a plane in an 11 year old kids movie oh god how did it come to this
Back To:

Community content is available under
CC-BY-SA
unless otherwise noted.